If Oxy-Gen crash during the generation of files would be needed I envoye certain number of files so that I can reproduce the problem to me and correct it. The more you supply me with information and the more I shall quickly correct the problem.
You must download the debug version by clicking here.
Install this new version without un-install the preceding one and start again the same treatment.
After the crash, the files *.log are generated in the oxy-gen installed folder. It would be necessary to send to me by mail this files :
1. prefs.ini
2. debug_info_oxy.log (generated in output folder with html, php, csv ... files)
3. user_places.txt (if you use the manual place search option)
4. place_debug.log
5. debug_oxy.log
6. a sample file that cause the crash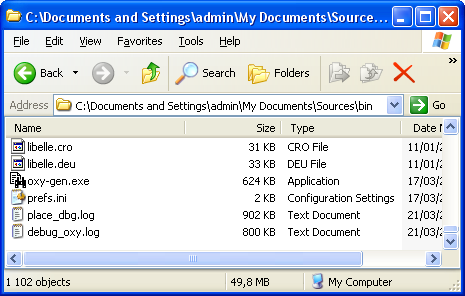 If the file prefs.ini is not present, go in the options panel of Oxy-Gen and un-activate Save the options in the registry then leave Oxy-Gen, the file will be present in the folder.
Theses files can be here : C:\Users\[User]\AppData\Local\VirtualStore\Program Files (x86)\Oxy-Gen where [User] is the name of the Windows user.